Computer Olympiad / Rekenaarolimpiade
Applications Olympiad: Instructions to participants:
There are two categories, BASIC and OPEN. OPEN is more demanding than the BASIC category. Only participants in the OPEN category have a chance of being invited to the

Second Round

– provided their scores are high enough.
You may take part only once. Note that if you take part in the BASIC category, submitting results for the OPEN division will not be considered and vice versa. Choose only one division.
All answers must be typed in the appropriate place online. You must click save for each question.
You may do the questions in any order, but you have to make sure the answers are placed correctly.
The files you need to answer the questions have been provided to your school. Ask your teacher/invigilator where to find them otherwise you can download them from the competitions page before you start the contest.
The paper must be completed under "examination conditions". No communication (oral, electronic or any other form) with other contestants is permitted.
You may use the application of your choice to answer any of the questions and, if necessary, convert the data as it suits you.
You have one hour (60 minutes) to complete the 20 questions in this paper.
Each correct answer counts five (5) marks.
You need to store your files where you found them and where your teacher can access them in case the judges want to see how you obtained the answer. Do not delete any of the files. Do not attempt to modify any files after the end of the contest.
For all questions, if the answer is a number, just give the number without any units.
Watch video: How to register your participation for the Olympiad
Who is the Applications Olympiad for?
The Applications Olympiad is a challenge for those who take CAT or the ICDL or are otherwise computer literate. The participants have to solve a number of problems using a Microsoft Office package and the data provided. Contestants are allowed to use the application of their choice, such as the Word Processor, Spreadsheet, Database and Presentation Tool.
There are two papers, BASIC and OPEN from which all learners may choose. The competition is most beneficial if entire classes take part, but individual participation is also encouraged. The Application Olympiad is available in English and Afrikaans.
BASIC

OPEN

Level

Slightly easier than Open

At the level of previous Applications Olympiads

Tasks

Includes a Word, Excel and PowerPoint section, but no Access.

Includes a Word, Excel and Access section, but no PowerPoint.

Award

50% of participants receive certificates, but do not qualify for Round 2.

(Those who want to go to the next Round should opt for the OPEN division).

50% of participants receive certificates – top OPEN learners will be invited to Round 2.
---
Important Rules
Date:

Schools with a small number of learners taking part should select one day between 3 and 10 May (excluding weekends) for ALL interested learners to participate between 06:00 and 18:00.
Schools taking part

offline

should also select one day between the given dates.
If the number of learners are more than the number of available computers (if online), or if the whole school is being registered, more than one day may be utilised to part take in the Applications. Please inform the Olympiad via email.
One chance: Each learner may only participate once in either the Online or Offline version.
Teacher Practice: We advise that teachers try doing the contest themselves at least a day before to guide learners more effectively when they participate. Read what Teacher's should do to prepare before and on the day of the Applications Olympiad

below

.
Watch the video below with your class before attempting the Applications Olympiad.
Certificates will be printed for the top 50% of participants of each division.
Help: No outside help is allowed during the competition
Loadshedding and Time Limits: Make sure no load-shedding is planned for the time of the contest. Unfortunately, no extra time will be granted due to low bandwith or load-shedding. The competition is exactly 1 hour (60 minutes) long.
General Notes to teachers
Please take precautions to prevent learners from sharing e.g. destroy notes, take back question papers, or diagrams made during the contest.
---
What to expect after registering?
The Applications Olympiad has two divisions. Each division has a different level of difficulty. Learners should select their actual grade when they participate for appropriate evaluation.
On 27 April 2022, you (the teacher) will receive the documentation you requested on your entry form. The expected documentation is listed below:
Online documentation

Offline documentation

1. Instructions for the Teachers

2. Information for Participants

3. Data Files

4. Logins

1. Instructions for the Teachers

2. AO Question paper English

3. Data Files

4. Memorandum

5. Results Spreadsheet

No marking required

Marking is required
---
What to do on the day of the competition
Online participation
1. Login details: Type your learners' names on the login sheet.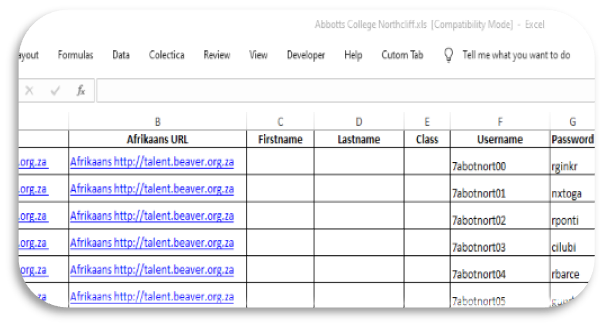 2. Cut it into strips: Print the spreadsheet with the URL, usernames and passwords. Cut it into strips and give each online participant ONE strip. [The questions appear on screen for participants.]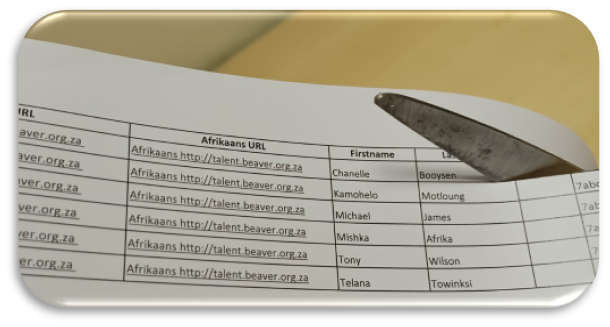 3. "Information (instructions) for Participants": Print and Hand out the 2-page instruction sheet for each online participant and/or let them watch the video.
Offline participation
Print the appropriate Question paper provided by the Olympiad for your learners. Instructions for learners participating offline will be found on the question paper.
AVOID MISTAKES
Remind participants to read and follow instructions carefully. No credit is given for answers that are not 100% correct.
Please ask participants to enter their names correctly and in 'Proper Case' (e.g. Sam King not sam king). Incorrect entries cannot be corrected later, on certificates.
Remind learners that the first name, last name and grade they enter will appear on the certificates. Remind learners not to misspell their name or accidently enter an incorrect grade.